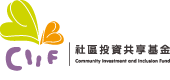 Community Investment and Inclusion Fund (CIIF) was set up by the Government of the Hong Kong Special Administrative Region in 2002 to implement diversified social capital development projects in the community, promote reciprocity between the public and different sectors, and build together cross-sectoral collaborative platforms and social support networks. The Fund seeks to build social capital – to garner mutual trust, spirit of cooperation and social cohesion, and enhance mutual support among individuals, families and organisations so that our community can grow from strength to strength.
Energise the Community
Build a Caring Society!
Latest Episode of "Community Togetherness for 18 Districts"