Outstanding Social Capital Project Awards
| | | |
| --- | --- | --- |
| Organisation | : | CCC Tam Lee Lai Fun Memorial Secondary School |
| Funding Period | : | 1 October 2016 to 30 September 2018 |
| District | : | Tuen Mun |
| Project Summary | : | This project utilised the school facilities by opening the school campus as a gathering point for the elderly and teenagers for promoting cross-generational integration. During the project period, students and teachers demonstrated the use of new technologies to the elderly, while the elderly volunteers, in return, acted as student mentors and led students in volunteer visits. Students also designed health products suitable for the elderly by applying innovative technologies. The project has facilitated collaboration among the school, church, commercial partner and community group who build up different mutual help networks with the elderly and teenagers. The volunteer team has already started operating by itself. |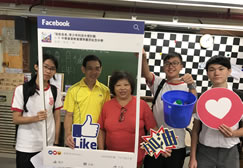 Quote from the winner
We would like to extend our heartfelt thanks to the Community Investment and Inclusion Fund for supporting our school in launching a two-year project on "Smart Elderly" Young Technology Ambassadors. Through the project, we could understand the significance of allowing our school to become a "community centre". First, it helped us open up our campus for meaningful causes. Second, the project made it possible for us to organise a variety of activities for the elderly.in the community. Third, it created ample opportunities for the youth to gain hands-on learning experiences so as to build up their social capital when they are young.
Over the past two years, our project has been well received by the public. What is more, it has attracted the attention of various organisations and the media. This has enabled us to have opportunities of having more in-depth discussions regarding the issues of the elderly. At the same time, our school was able to take up a more important role in opening up a path for community-school co-operation.
On behalf of all the members of the CCC Tam Lee Lai Fun Memorial Secondary School, we would like to express our sincerest gratitude again to the CIIF for its support over the years. Our school will continue its aspiration to develop a mutually inclusive and supportive community with the youth and the elderly going hand in hand.