Outstanding Social Capital Partnership Awards (Individual)
| | | |
| --- | --- | --- |
| Project participated | : | "Befriend with Neighbours" – Lei Tung Yue An Mutual-Aid Project |
| Nominator | : | TWGHs Jockey Club Lei Tung Integrated Services Centre |
Critical Success Factor
Miss LI Tsz-wing has transformed from a project participant to a core volunteer leader. As a member of the "Lei Tung estate theme park committee" in the project, she has organised large-scale events for the project, and has served as a coordinator between project partners. As the chairlady of her school's Community Youth Club, she has also facilitated collaboration between the Club and the project, and has mobilised students to become volunteers. She has a clear insight into the characteristics of communities, and has organised interest classes for toddlers in response to the needs of young families, at the same time strengthening the ties among the families.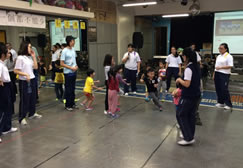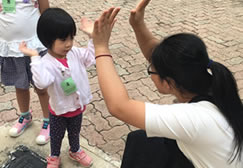 Quote from the winner
It is my honour to receive the Outstanding Social Capital Partnership Award. I would like to express my sincere gratitude to Mr Yoyo YIU and Ms Yvonne YANG from the "Befriend with Neighbours – Lei Tung Yue On Mutual-Aid Project" of the TWGHs Jockey Club Lei Tung Integrated Services Centre for their nurturing and grooming and for nominating me to receive the award.
I have engaged in volunteer services for eight years since I was in Secondary One. Even though my ability is limited, I was capable of fully utilising my personal social network and willing to contribute to the community. This award is a recognition of my volunteer services in the past and has helped strengthen my motivation to keep serving the community.
During my participation in the project, it was encouraging to see people feeling happy when I played games with them. I believed that people could break through their social barrier and jointly build a caring community. I will keep on serving my community, bringing happiness to others and adding vibrancy to the community. I will continue to play an active role in the "Funday Committee" of the project with a view to building up more social capital in the community.