Outstanding Social Capital Partnership Awards (Individual)

| | | |
| --- | --- | --- |
| Project participated | : | "From Newer to New"- Social Capital Project Nurturing Social Integration for New Arrival Family and Golden-Aged Group |
| Nominator | : | Chinese YMCA of Hong Kong |
Critical Success Factor
Ms. LAW Kan-wah is the vice-chairlady of the Parents' Association of Pre-school Handicapped Children. She has frequently participated in the project activities along with volunteers of the Association, and has played an active role in encouraging other organisations to join the project. She has made arrangement for the new arrival grass-root families and the golden-aged (people aged 50 or above) to participate in the project activities together with people with special needs, so as to establish cross-generation and cross-strata networks for an inclusive community. Making use of her aptitude for sewing, she has taught the golden-aged and new arrival women to sew bed sheets for the singleton elderly, assisting both groups of people in transforming their roles and contributing to the community by making use of what they have learned.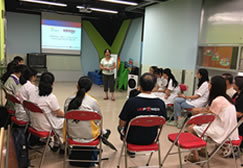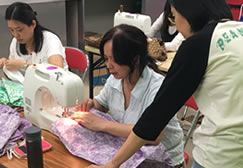 Quote from the winner
It is my great honour to receive the Outstanding Social Capital Partnership Award. I would like to express my sincere gratitude to the "From Newer to New" project of the Chinese YMCA of Hong Kong Jordan Centre for their nomination.
"Doing good for being famous is not a virtue". Therefore, I have been devoting myself to volunteering and never expected any awards or praise in return. The award I received is a recognition of my voluntary work which I have engaged in for over twenty years. Apart from the "From Newer to New" project of the Chinese YMCA of Hong Kong Jordan Centre, I have also taken part in the activities of the Parents' Association of Pre-School Handicapped Children and other community services. To my great delight, I have been supported wholeheartedly by my family, other parents and members with whom I have been working for years. I would like to show my gratitude by sharing this honour with them.
I have encouraged the golden-aged group in the Parents' Association to participate in the CIIF-fund project, through which they can make friends with new arrival women and communicate with each other in the cooking workshops of the project. Moreover, the project has provided me with the chance of utilising my sewing skills once again to teach the golden-aged group and new arrivals how to make bed sheets and pillowcases for the singleton elderly in the community. It is a way of serving the community, helping myself and others.
I hope that after the conclusion of the project it can still provide a platform for gathering people from different backgrounds to serve the community and promote the importance of an inclusive and caring society.