Outstanding Social Capital Partnership Awards (Corporate)

CIIF Project
:
Dementia-Friendly Community
Agency
:
Christian Family Service Centre
Mind Delight Memory and Cognitive Training Centre
Critical Success Factor
Fairwood Holdings Limited ("Fairwood") has been participating in a CIIF-funded project since 2010, through which it has opened up job opportunities for ethnic minorities. Fairwood participated in the "Dementia-Friendly Community" project in 2017. During the project period, arrangements were made for managers and assistant managers of Fairwood to receive training on knowledge of dementia, so as to enable staff at the middle management level to have a better understanding of dementia and acquire techniques to support the frontline staff in offering dementia-friendly customer services. Fairwood has also coordinated restaurant visits for the project staff, inviting the latter to train up Fairwood's frontline staff for providing a dementia-friendly environment in all of its restaurants and contributing to a friendly community.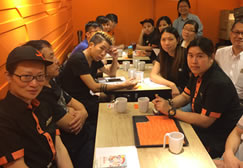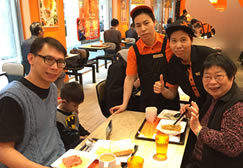 Quote from the winner
It is our great honour to receive the Outstanding Social Capital Partnership Award from the Community Investment and Inclusion Fund (CIIF). Special thanks go to our partner Mind Delight Memory and Cognitive Training Centre of the Christian Family Service Centre (CFSC) who nominated Fairwood Holdings Limited. The award highlights our collaborative efforts with our social service partners and serves as a recognition of our hard work.
Noticing the growth in the "silver hair" population, Fairwood Holdings saw the importance of community support. The "Dementia-Friendly Community" project is exactly in line with our corporate mission "Enjoy Great Food. Live a Great Life", with the aims of caring for the community and serving the community.
Fairwood's role in the project is to gather strengths in building a caring neighbourhood. With more understanding of the difficulties encountered by dementia patients and their carers in the community, Fairwood's team provides corresponding measures and caring services in our restaurants, with a view to building an intangible support network for dementia patients, so that they and their carers can live in a safe and caring "Dementia-Friendly Community" with better interaction among them.
We would like to express our special gratitude to the CIIF for giving funding support to the project and to the CFSC for inviting us to participate in the project. We look forward to having further collaboration, providing support for more elderly people who have contributed to the development of Hong Kong, and accumulating more social capital by establishing a caring community.