Outstanding Partnership Award (Corporate)
In recognition of excellence in promoting social capital, through the effective use of expertise and network advantages of individuals/ enterprises, and play a key role in achieving social capital outcomes.
• Community network — To develop mutual trust and long-term relationship with people in different sectors and of different backgrounds, and strengthen the social networking.
• Mutual-help and Reciprocity — To make good use of one's advantages; devote resources to enhancing community capacity and creating opportunities for development.
• Trust and Solidarity — To achieve synergy by fostering cross-sectoral partnership.
• Social Cohesion and Inclusion — To promote social harmony and build social capital culture.
• Social Participation — To mobilise participation in response to community needs, enhance community capacity.
• Information and Communication — To establish an effective communication platform to facilitate information flow.

Project participated
:
Family story telling – Neighbourhoods Development Project,
Family story telling – Neighbourhoods Support Project
Nominator
:
Hong Kong Outlying Islands Women's Association Limited
Critical Success Factor
Disney volunteers have made use of their own strengths to participate in the activities of the project. For example, performance team members teach Tung Chung parents storytelling skills, help build up quality parent –child relationship and their sense of belonging to the community.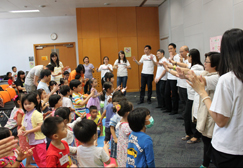 Quote from the winner
Hong Kong Disneyland is most honoured to receive the "Outstanding Social Capital Partnership Award (Corporate)." It is a significant recognition of our partnership with community organisations and our contribution to the local community.
Co-organised by the resort and Outlying Islands Women's Association (OIWA), the "Family Storytelling-Neighbourhoods Support Project" consists of regular storytelling sessions, storytelling workshops for parents and the "Family Creative Story Competition." In 2014, 200 storytelling sessions were held with a total of 4338 participants recorded. The "Family Creative Story Competition" also attracted applications from almost a hundred families.
Not only can the project enhance parent-child relationships, but it has also brought us closer to the local community through the participation of Tung Chung residents. It is a solid testimony to CIIF's objective of forming a social network of reciprocity through cross-sectoral collaboration, all to enhance and sustain community capacity.
The resort would like to express heartfelt thanks to CIIF for funding the project, OIWA for its invitation, and the support of the volunteers and the families in Tung Chung.
The resort's Disney VoluntEARS will continue to give their utmost support to the project by engaging more people from all walks of life and pooling more resources to build social capital for the sustainable development of Lantau Island.