Outstanding Social Capital Partnership Awards (Corporate)

| | | |
| --- | --- | --- |
| CIIF Project | : | Network Village Network Love |
| Agency | : | HKYWCA Ellen Li District Elderly Community Centre |
Critical Success Factor
The Sha Tau Kok District Rural Committee ("The Committee") has actively encouraged villagers who live in remote rural areas to participate in the "Network Village Network Love" project. Villagers engaged in the project have led regular volunteer visits on a monthly basis, accumulating up to 66 visits since April 2017. The Committee has also promoted collaboration between the project team and volunteer teams of the Home Affairs Department, Social Welfare Department, schools, nurses, chiropractors and nutritionists. Together they have helped villagers in the production of a commemorative book on the culture of local villages. Volunteers have taught villagers how to check food labels by bringing them to supermarkets in urban areas and also taught them the use of smartphones in order to enhance their information exchange and communication with others.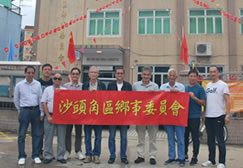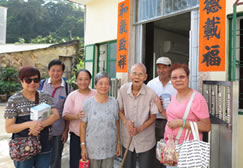 Quote from the winner
We are very pleased to receive the Outstanding Social Capital Partnership Award from the Community Investment and Inclusion Fund. First of all, we would like to thank the Adjudication Panel for their encouragement and support. It is a great honour to be the first Rural Committee to receive this award. It is also a recognition of the social participation and previous hard work of our Rural Committee.
We would also like to express our gratitude to the YWCA Ellen Li District Elderly Community Centre, which has served our district for many years, for giving us the opportunity to participate in the "Network Village Network Love" project. In the project, we made good use of the network of our village representatives and the neighbourhood network established by the "Village Satellites". The synergy effect helped the elders in the project obtain more comprehensive services. We would also like to thank the village representatives for their active participation.
Looking ahead, we will continue to meet different needs of the community and encourage more rural villages to make good use of their existing social capital to benefit the elderly in need. We also hope that the "Network Village Network Love" project will continue and thrive so that more people can share the unique caring culture of the villages.