Outstanding Social Capital Project Awards

Organisation
:
Yang Memorial Methodist Social Service -
Choi Hung Community Centre for Senior Citizens
Funding Period
:
26 January 2015 to 25 January 2018
District
:
Wong Tai Sin
Project Summary
:
Through connecting volunteers and organisations in the community, this project mobilised people of different social strata to strengthen community support for the elderly. The project also successfully established a community mutual help network underpinned by the House Captain system. Through organising repair classes, it provided training for retired men in the community so that they can carry out regular inspections and maintenance of wheelchairs used by residents in the estate. Making good use of the expertise of its corporate partners, the project has passed on professional healthcare tips to the elderly. The project also excelled by forming five elderly-led self-programming service groups, which have organised regular activities in the estate and contributed to the continued operation of the local support network.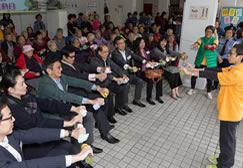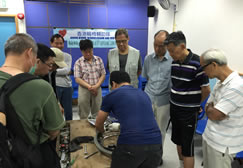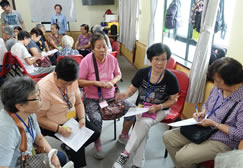 Quote from the winner
We would like to express our gratitude to the Community Investment and Inclusion Fund for their recognition of the "Heart Connection" project. Through implementation of the project in the past three years, the "Care by the Community" model was successfully established to help the elderly. Every contributor in this project has made their remarkable effort to build a better community for the elderly. Special thanks must go to the 648 volunteers and 53 district organisations/enterprises/bodies for their selfless contributions and participation throughout these three years, and the "Promoting Happiness Index Foundation" for sponsoring the home safety equipment so that with concerted efforts we can help the elderly age in place.
The project not only benefited the community, but also enabled us to review our strategies and positioning as a social welfare agency providing community services for the elderly. We have attached importance to the development of self-programming service groups and building up their capacity. A total of five self-programming service groups were established, delivering continuous services to the community. In the future, we will continue to establish different participation platforms as an extension of the "Heart Connection" project, thereby promoting role transformation of more individuals and families and building up more social capital to support the caring networks for the elderly.