Outstanding Social Capital Project Awards

Organisation
:
Hong Kong Sheng Kung Hui Lady MacLehose Centre -
Dr. Lam Chik Suen District Elderly Community Centre
Funding Period
:
1 March 2015 to 28 February 2018
District
:
Kwai Tsing
Project Summary
:
Following the previous " 'Love Your Neighbour and Community': Carers Companion Project", this project strengthened systematic training and practice for community members and elderly carers in order to train them up to become "care agents". It succeeded in building mutual-help platforms in the Kwai Fong, On Yam and Cheung Hang communities, and through improving information exchange and facilitating social participation, it also created cross-sectoral support networks. The two phases of projects have since developed two independently registered bodies and an elderly carers' network, all of which have been supporting elderly carers after the conclusion of the project, thereby furthering the development of social capital.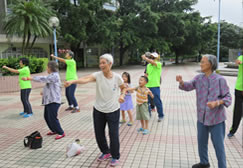 Quote from the winner
It is our greatest honour that the "Care Agent": Community Support Network is presented with the "Outstanding Social Capital Project Award". Our sincere thanks must go to both the collaborative partners and volunteers for their commitment and support for the project by contributing their professional skills and talent to help build up more caring neighborhood networks for carers' families and the elderly in Kwai Tsing district. We also appreciate the support of the Community Investment and Inclusion Fund which has given us many recommendations on our service model, enabling our project to be successfully extended to a number of communities in the past three years, and resulting in the building up of more "love and trust" among the carers' families.
What made us feel most touching and proud of this project is the spontaneous and continuous participation of our "Care Agents" and collaborative partners. They have tried their best to design different informal services for the carers' families and the elderly and formed a self-support group named Kwai Tsing Healthy Leisure Society to sustain the effectiveness of the project. We have also found great pleasure in the positive role changes of our service users from service recipients to community helpers.
We would like to share the honour with all of our service users, volunteers and collaborative partners. It is hoped that all stakeholders will continue to spread their "love and trust" to others with a view to serving more communities.